Sal Glesser has been in the cutlery business for a long time. With over four decades of experience, it is no surprise that Spyderco has is known as the folding knife masters. Sal himself was inducted into the Blade magazine's Cutlery Hall of Fame in 2000. It is little wonder that many are looking to buy Spyderco Knives.
Starting out in a truck alongside his wife. Sal has definitely taken Spyderco to great heights. Golden, Colorado was where Sal first set up shop, growing to become the best in the business. The company continues to design its trademark Spyderco folding knives yearly.
Ageing like fine wine, Spyderco hasn't forgotten its roots. Paying attention to details has definitely paid off. You only need to look at Spyderco hunting knives to appreciate their innovative designs. Spyderco invests a lot of time and resources into coming up with fantastic new designs. With distribution points spread across the world, it is so easy to purchase Spyderco Knives in Canada.
Therefore, if you are ever in the market to buy a hunting knife or a folding knife, choose Spyderco. While Spyderco might have a huge collection of great looking and effective knives. Below are a select few that we have reviewed to help ease your decision of buying Spyderco hunting knives.
1. The Para Military 2 
Featuring a thinner profile than previous incarnations, the PM2 makes its way onto this list. This knife sports a compression lock system on its handle. It also comes with a four-way clip for easy carriage on a daily basis. All this makes for a comfortable blade in your hands or pocket. Although the blade remains flat ground, it is longer than it was in the past. Fashioned from the high-grade CPM S30V steel, the blade remains true to its nature. The design comes with the new Bushing Pivot System. All in all, the Para Military 2 is nothing short of a perfect blade.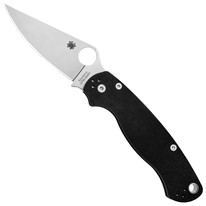 Specs:
Overall Length/Blade Length; 210mm/87mm
Weight: 111g

2. The Tenacious G-10
Staying true to its name, this knife refuses to relinquish its top tier position as a great knife to own. When it comes to this Spyderco knife series, the tenacious stand is a proven state-of-the-art type of knife. It comes with a G-10 laminate hilt and is fashioned in a way that reduces fatigue when cutting. The insides of the handle feature steel liners that increase the handle's solidity and strength while still remaining light in weight. The blade is made from 8Cr13Mov stainless steel. Right from the spine to the cutting edge, the blade is optimized for cutting by being ground flat. The knife features a Walker Linerlock alongside a 4-way pocket clip. Persevering as always, this easy to carry, smooth cut knife fits right into your hands and onto our list.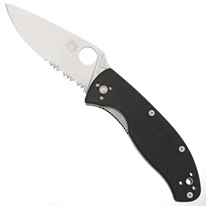 Specs:
Overall Length/Blade Length; 197mm/86mm
Weight: 117g

3. The Endura 4
Four generations since its first launched into the market, the Endura blade continues to cut a fiery path in the world of knives. Spyderco knives are trailblazers, but none quite as much as the Endura. The Endura 4 features a steel liner and an injection molded fiberglass-reinforced-nylon handle, which makes for a light knife. The blade is made from VG-10 stainless steel that is saber-ground. It comes in different configurations, the PlainEdge, CombinationEdge and the SpyderEdge configurations. It sports a back lock system that keeps it secured when the blade is open. Sporting a trademarked Bi-Directional Texturing pattern alongside a 4 position clip. The Endura 4 is a light and extremely capable blade.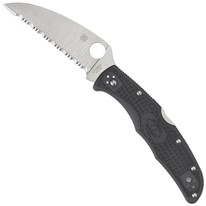 Specs:
Overall Length/Blade Length; 222mm/96mm
Weight: 103g

4. The Delica
When it comes lightweight blades that can perform, Spyderco knives stand out from the rest with the Delica leading the pack. It features a fiberglass-reinforced-nylon handle. Its inside is lined with stainless steel that makes for a strong, light blade. The blade is made from VG-10 blades and is saber-ground. The opening hole is larger than most, coming in at 13mm. The addition of slip-resistant along the spine makes gripping the blade easy to carry and it cuts like a hot knife through butter. Opening and closing action of the blade is made smooth by the phosphor bronze washers. The Delica's Bi-Directional Texturing makes it ambidextrous and a 4-way clip makes for easy carry.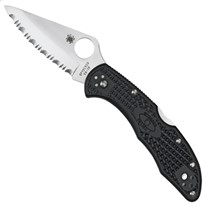 Specs:
Overall Length/Blade Length; 181mm/73mm
Weight: 71g
5. The Dragonfly 2
Sporting new upgrades, the dragonfly remains the picture of excellence that is synonymous with Spyderco folding knives. It features a mid-sized blade that is made from VG-10 steel. The blade is flat grind and comes in both PlainEdge and SpyderEdge configurations. The handle is made from fiberglass-reinforced-nylon and sports an ergonomic grip to die for. The opening hole is positioned in relative to the pivot that makes opening literally a breeze. The handle also features front-finger choil and a spine cusp. All in all, buying the Spyderco Dragonfly 2 is a knife lover's dream come true.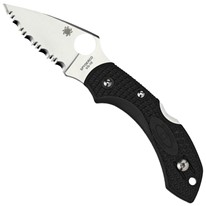 Specs:
Overall Length/Blade Length; 141mm/57mm
Weight: 34g
6. The Manix 2
When it comes to lightweight folding knives, there is no better product on the market like the Spyderco folding knives. Evidence of this is the Manix 2. Featuring a full flat ground BDS stainless steel blade alongside Spyderco's trademarked round hole, the Manix 2 makes its way onto our list. It sports a handle made from fiberglass reinforced co-polymer. The handle also features a Bi-Directional Texture pattern to strengthen and secure the user's grip. The knife also comes with a reversible wire clip that makes for ambidextrous carrying. With all these features, it is little wonder that this blade won the Blade magazine's Most Innovative American Design award (2010).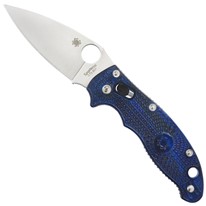 Specs:
Overall Length/Blade Length; 204mm/86mm
Weight: 85g
7. The Sage 5
The entire sage series is beautifully and wonderfully crafted. It is a blade made from CPMS30V steel and the ergonomic grip that make Spyderco hunting knives popular. The handles feature a forefinger choil and thumb ramp and a reversible tip-up wire clip. What distinguishes this knife from the others in its series is its compression lock system. The lock is designed such that the blade's tang ramp faces the handle's spine rather than the end of the handle. This makes the lock much better than the LinerLock mechanism featured in other knives. The Sage 5 is definitely a capable multipurpose knife.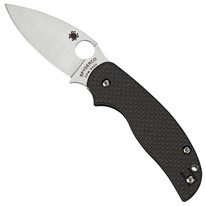 Specs:
Overall Length/Blade Length; 182mm/76mm
Weight: 88g
8. The Bug Stainless
When it comes to Spyderco folding knives, you can't get much smaller than the Bug. With a blade made from flat ground 3Cr13 stainless steel, this little knife has wormed its way into our list. The blade comes in only PlainEdge configurations. The handle is made from stainless steel. The shiny steel handle is the perfect place to engrave upon. This lightweight little knife is an ideal gift item for knife lovers everywhere. It fits perfectly on a chain around the neck or onto the end of a key chain.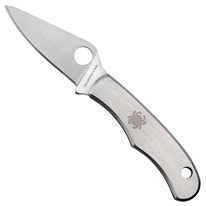 Specs:
Overall Length/Blade Length; 74mm/32mm
Weight: 11g
9. The Police Model Stainless
Even officers of the law need dependable protection. The Police model stainless is that protection knife you didn't know you need. Sporting a hollow ground VG-10 steel blade, the Police Model is the perfect self-defense blade. It features a Boye Detent that prevents unintended locking in its satin-finished stainless steel handle. The handle is built to provide heft and a solid base for the back lock system. This knife is available in PlainEdge, SpyderEdge and CombinationEdge configurations. The handle is fitted with a four-position hourglass clip that allows for easy carriage and usage in either hand. This is the perfect deadly pretty knife.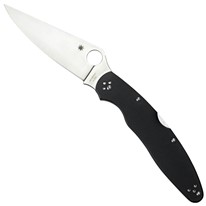 Specs:
Overall Length/Blade Length; 240mm/104mm
Weight: 159g
10. The Atlantic Salt
With its extremely beneficial rounded tip, seamen find this blade pretty useful. It sports a hollow ground H1-steel blade, that is very resistant to rust, it is not surprising that this Spyderco hunting knife makes our list. If you are looking to buy Spyderco knives that are usable in freshwater and saltwater regions, this is the knife for you. The handle is made from fiberglass-reinforced-nylon and includes a shackle key. The handle is fitted with a black titanium pocket clip for easy carry on both hands. Spyderco definitely had its buyers in mind when it made a lanyard hole for easy threading of the knife to prevent loss.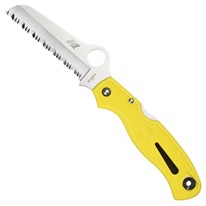 Specs:
Overall Length/Blade Length; 209m/94mm
Weight: 78g

11. The Pacific Salt
With a rust resistant H-1 steel blade like its cousin, the Pacific Salt also makes the list. The blade is hollow ground, coated in black Carbonitride and PlainEdge. Its rounded tip is what differentiates it from the Endura 4 knife earlier mentioned. The handle is not excluded from the non-rust treatment. It features treated internal steel parts to battle the effects of water and keep it from rusting. The grip is a Volcano Grip and is built into the fiberglass-reinforced nylon handle. It also features a reversible titanium pocket clip, which makes it easy to use and carry. Like its cousin, a thread can be inserted into its lanyard hole to prevent any accident during use.
Specs:
Overall Length/Blade Length; 221m/97mm
Weight: 85g
12. The Assist Combination Knife
Built for emergency assistance, this beautiful piece of Spyderco design makes it to our list. Designed with emergency situations in mind, this blunt-tipped blade is a definite must-have. Fitted with a VG-10 toothy edged blade, this knife comes in eighty percent SpyderEdged and twenty percent PlainEdged configurations. The PlainEdged tip is designed with accurate precision cutting in mind. This knife comes with a trademarked Cobra Hood right above the opening hole for quick and easy unfolding. The fiberglass-reinforced nylon handle is fitted with trademarked Bi-Directional Texture contours and bulges that give that classic Spyderco feel in your grip. The handle sticks to the emergency theme with its bright safety orange color.
Specs:
Overall Length/Blade Length; 213m/94mm
Weight: 115g

13. The Yojimbo 2
Spyderco partnered with Michael Janich, a self-defense expert to produce this blade. The classic looking blade just had to be on the list. Fitted with a hollow ground CPM S30V blade, this knife comes with a thumb-forward grip that just feels right. The knife has a PlainEdge cutting edge that is suited to cutting operations. The best thing about this knife is, all applied power is transferred to the tip, with minimal losses. The handle is fitted with Spyderco's stainless steel liners and a compression lock system. The textured G-10 scales and four-position clip make for easy grip and carry in any position.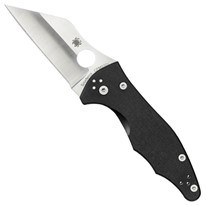 Specs:
Overall Length/Blade Length; 192m/79mm
Weight: 113g

14. The Native 5
This series is so named because they are all locally made for shipping in Golden Colorado, the birthplace of Spyderco. This particular blade is full-flat ground and its CPM S30V steel is distally tapered. It features a textured index-finger choil alongside a thumb ramp. The blade is duly supported by a back lock system. The handle is made from fiberglass-reinforced nylon. The handle features Spyderco's trademarked Bi-Directional Texturing, which makes for a secure grip on the light blade. An improved hourglass clip is also present on the handle. This gives it a two-direction position carry property. When it comes to EDC knives, buy Spyderco knives, buy the Native 5.
Specs:
Overall Length/Blade Length; 177m/75mm
Weight: 71g
 
15. The Dog Tag Folder Aluminum Black Blade
Spyderco left the classic knife design shape and came up with this perfect rectangular blade. Sporting a single-sided handle that is made from solid titanium, this knife looks like a military dog tag. The blade is shaped into a sheep foot and is made from the best CPM S30V metallurgy stainless steel. The blade is chisel ground and has a single flat bevel to protect it when closed. The trademarked round hole is designed to allow the easiest of opening for this particular blade. This blade is a non-locking folder and as such a detent system is crafted in to keep it locked in the open position.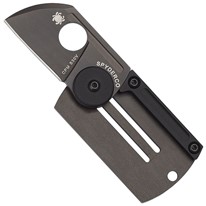 Specs:
Overall Length/Blade Length; 82m/31mm
Weight: 26g
In conclusion, if you are in the market to buy Spyderco Knives in Canada, this post is a good place to start your research on what to expect. Regardless of the type of knife you choose, if it is part of the Spyderco family of knives, then you can be sure of its quality and effectiveness.