The majority of airsoft games are played as military simulations, often re-enacting combat or law enforcement scenarios to add an element of realism to the sport. Airsoft as a recreational sport has surged in popularity within recent years, so much so that variants of the sport have taken off as their own established gaming playstyles. Among these emerging playstyles is speedsoft, a stark contrast from the commonplace milsim games in the attitude and pace of the games.
What is speedsoft?
Speedsoft is a fast-paced style of airsoft, requiring speed and quick thinking in order to eliminate opponents and reach your objective. Games are played indoors and act much like a sweep or clean up done in quick fashion, with rounds usually lasting about 4-5 minutes.
Speedsoft was popularized with the introduction of SpeedQB in South California. SpeedQB is
a teamwork-centric, high-speed style of playing Airsoft. SpeedQB foregoes traditional limitations with a focus on creativity, efficiency, and team chemistry.
The organization has grown to become one of the forefront names in speedsoft, with their own product line that includes speedsoft gear and apparel like masks and beanies.
They've also begun collaborating with known airsoft brands like PTS Syndicate, adding the colourful flair of speedsoft style to contrast traditional airsoft colourways.
Speedsoft vs. Milsim
Milsim and speedsoft are two different playstyles of airsoft games. Speedsoft games differ greatly from milsim games, which are typically done outdoors, with multiple objectives achieved through tactical means. Speedsoft involves fast movements, with players sliding, diving, and rapidly shooting while milsim players tend to take it slow and are cautious with their gameplay. Milsim players go out in full military loadouts, equipped with tactical rigs and plate armour, while speedsoft loadouts are usually minimal in appearance.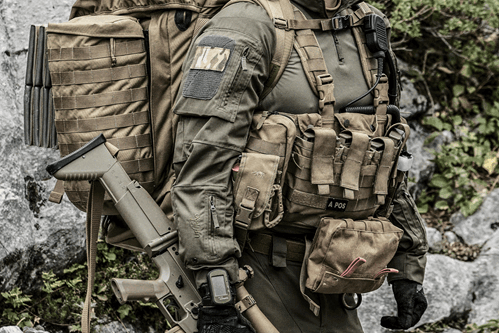 Milsim loadouts can be bulky and cumbersome. Not ideal for the quick pace for speedsoft games.
What do you wear for speedsoft?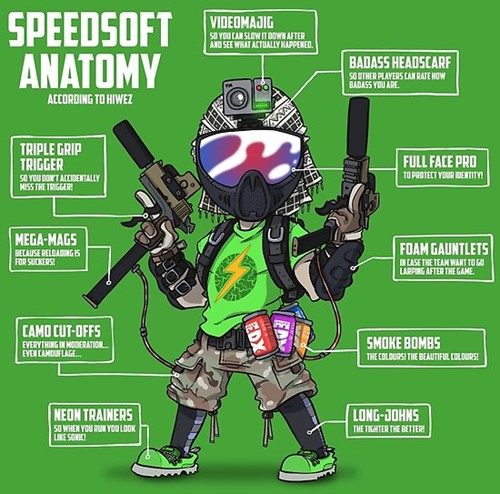 Because of the swift nature of this style of play, speedsoft attire is often defined by more lightweight loadouts. Most players opt for athletic clothing, wearing tennis shoes or sneakers instead of military-grade boots. Maneuverable guns are the weapons of choice in speedsoft, such as lightweight assault rifles or pistols. Players have a lot more freedom with how they dress in Speedsoft, allowing for lighter, often colourful, attire to display one's own personal style even during games.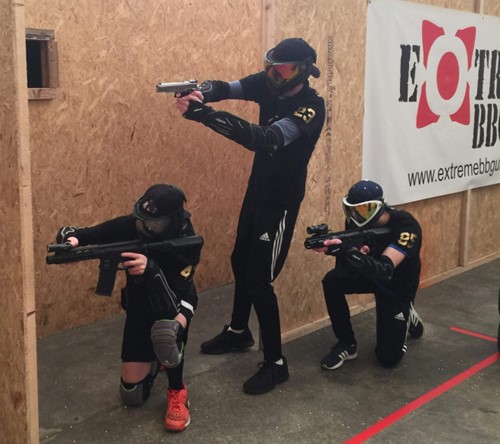 Can you speedsoft with an AEG?
The guns used in speedsoft don't differ much from other types of airsoft play. Because of the quick pace of games however, you will definitely want to stick to lightweight pistols and compact rifles. Go for AEGs that are specialized in CQB. Don't bring a sniper rifle – by the time you even set up your shot the game will most likely already be over.  With an AEG, you will want to change a lot of internal parts to up your rate of fire. This would include anything from your motor, gear, pistons, and running your AEG with an 11.1V (requiring you to install a MOSFET).
What do you need for a speedsoft pistol?
Along with moving fast, you also need to shoot fast in speedsoft. Most players use a hi-capa or even a custom pistol, changing all the internal parts for a faster and more accurate weapon. Hi-capas are the most customizable in the market, with standard 32 BB mags that can be extended up to a 50 round capacity. More rounds for more BBs means less time for reloading. The valves on green gas mags can also be converted to an HPA setup with a CQB Russian valve, providing your gun with smoother consistency and a more streamlined shooting experience. Players can also be seen using small flashlights with strobe functions and crazy colours like green, blue, or purple to flash at and disorient members of the opposing team.
Check out the following airsoft pistols that would be excellent choices in any speedsoft game:

With a 28-round hi-capa mag, this pistol can also be fully field stripped for easier customization and optimization to meet your speedsoft standards.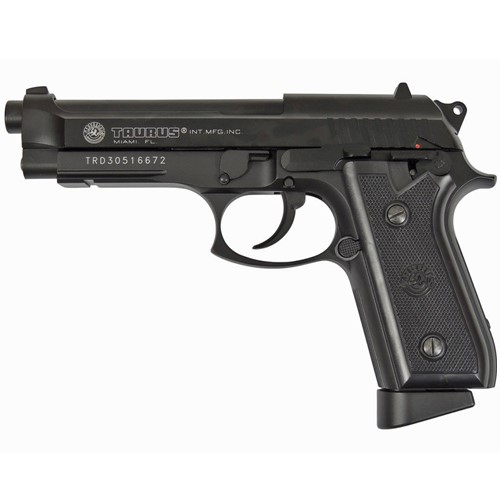 Equipped with full-auto firing mode, you can blast all 27 rounds in one go and leave your opponents in your wake.

Lightweight and aggressive, this compact rifle is built ready for close quarters combat.
---
Want to learn more? Check out the following video to see speedsoft played in action. The next best thing would be to go out and experience this fast-paced airsoft gameplay yourself!